This course has a rating of
Rigging plays a very important role in both the gaming and film industry. A bad rig can make production a real nightmare while a good rig can save you a lot of time and allow you to achieve more with your characters and models. Unfortunately this is often bypassed as most 3D artists are quickly discouraged or intimidated by rigging.
This course is designed to help you overcome this barrier and take your rigging skills to the next level.
Who is this course for ?
This course is suited to both beginners and more experienced riggers that wish to improve their skills. Whether this is the first time you add a bone to your Blender scene or you've already created several character rigs, this course is perfect for you.
What's included with package?
57 videos divided in 6 chapters for an accumulated lenght of 10h 56mins.
All course assets (models, rigs and textures)
Blender files for each step of the course
Updated for blender 2.8x and 2.9x
Compatible with Blender 3.x
Chapter 01 - Introduction to Rigging
Covers the foundation of rigging from its very definition to its application in short, comprehensive videos.
Chapter 02 - Simple character rig
We will rig our first character, creating a very basic mechanism to learn the fundamentals of rigging. Including driver creation and custom properties.
Chapter 03- Advanced character rig
We'll take our character to the next level by creating a much more complex mechanism from scratch, building on the previously acquired knowledge and pushing it further. Including switchable FK/IK chains, complex foot roll mechanism, rubber limbs, custom shapes, bone groups...etc
Chapter 04 - Facial rig
Covers the different techniques used for facial rigging, whether it's pure bone based or incorporates shapekeys.
Chapter 05 - Crimson Ronin character
We will rig the Crimson Ronin character entirely (including accessories), including all chapter 3 mechanisms and additional facial rig technics.
Chapter 06 - Additional rigging techniques
This chapter covers some of the mechanisms that weren't covered in previous chapters such as an advanced tail rig, tongue rig, bbones and additional modifiers.
Get started now!
And get any further lessons and updates for free. No subscription.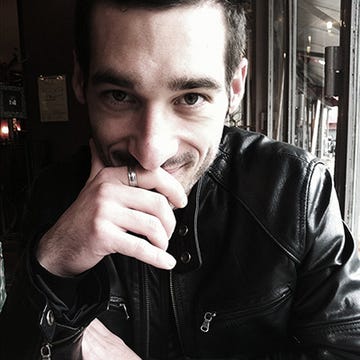 Your Instructor - Pierrick Picaut
With more than 10 years of experience using Blender, a solid 3D generalist background and multiple successful Blender courses, currently senior animator at Amazon Games, I have been publishing educational content for over 8 years.
I am a self taught 3D artist, so I know what it takes to learn this amazing craft. I have become a Blender foundation Certified trainer and my goal is to give you my passion for 3D and art through highly detailed, comprehensive and professionaly edited courses.
Frequently asked question
I feel lazy doing all the weight paint, any help?
Yes, all the models are provided at differnet stage of the rigging including base deformation weighted rig.
Is beginner friendly?
Yes, this course will fit your skill level wether you've never rigged or have already experience in rigging. But you will need to know blender basics such as interface and navigation.
Can I use it to rig my own character?
Absolutely, and I do encourage you to do so. The method is universal and it will give you additional motivation to achieve the course